Take one girl named Carolyn, give her a pattern named Carolyn, and look what you end up with: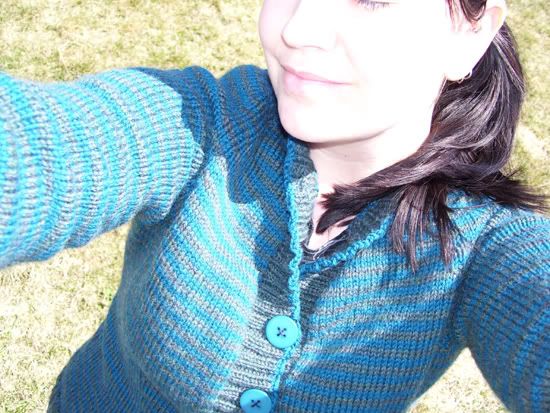 Carolyn
Pattern by: Jennifer Thurston, Spring Knitty 2007
Size: Medium
Yarn: Patons Classic Wool Merino in Evergreen (2.5 balls) and Peacock (2.05 balls grrr..)
Needles: 4mm and 4.5mm straight, 4mm circular
Notions: 8 - Teal 1.5" buttons
Started / Finish: March 14-ish 2007 / April 17th 2007
Modifications:
The only modifications I made were on the sleeves. Instead of increasing right away after the ribbed cuff, I knit the 14 rows, then started my increases. I also left out one stripe on the sleeve shoulders, because it wouldn't have match up with the body otherwise.
Brief Review:
This pattern was fun to knit up, rather quick knitting on the body sections. (The sleeves take much longer!) It has a very nice fit as well, hugging your body in the right areas. I do look forward to how it will fit once I lose more weight though! Having more room in the sleeves will be lovely.
Since this is a striped pattern, you really need to plan out ending your body and sleeves in the contrast colour. For the medium, this means starting the armhole bind-offs in your main colour.
Also, the medium size has a few miscounts on the sleeves. If the pattern is followed exactly, you end up with 16 sts left, not 20 sts. As mentioned above, I left out a stripe so that the raglan seams would match up perfectly, thus I ended up with 18 sts left on each. As I hadn't made a sweater before, I was worried about this, but I just went with my instinct. It worked out fine!
Now I have my sights set on finishing my French Market Bag, and once I lose a little more weight, I can't wait to start knitting up Intolerable Cruelty! So many things on the go. Even Ms Marigold has gotten attention lately!